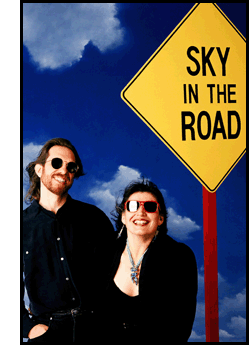 On a typical showery day in Portland, Oregon, if you should find yourself feeling low, eyes downcast, as you walk your neighborhood street, you may, if you're paying attention, just happen to catch a glimpse of the sky reflected in one of the many rain puddles at your feet. You might even discover a bit of sun shining back, rippling in this watery frame outlining the damp purple-gray cumulus above. Drawn into this expanding scene you suddenly become aware of the wider world of possibility all around you and that feeling of gloom begins to evaporate like the morning drizzle.

This is part of the phenomenon known as Sky in the Road ...
Rahmana Wiest and Daniel Rhiger

You could say it was love at first note. When Sky in the Road founding members Daniel Rhiger and Rahmana Wiest, both singers and musicians since childhood, met they were providing back-up vocals and instrumentation for another local singer/songwriter. It quickly became apparent that there was magic in this "harmonic convergence" and Dan and Rah, as they are known by their friends, soon became musical partners and eventually life partners.

In the early nineties they gigged around the Northwest with their band The Big Picture, plying their brand of world-music inflected folk-rock at festivals and clubs, large and small. It was during this time that Dan Rhiger received two runner-up awards in Billboard Magazine´s 1991 National Songwriting Contest. The two songs honored, Skyward Dancer and The Rediscovery of Fire, were featured on The Big Picture´s self-titled EP along with four other original tunes including two of Rahmana´s compositions.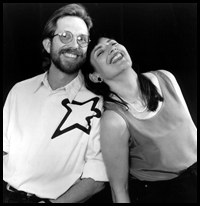 By 1995 they had moved on from The Big Picture and began performing as a duo under their current name of Sky in the Road. They released their first full-length CD by that same name. They have toured the West coast from Monterey to Vancouver, B.C. and east to New York, Chicago, St Louis and Denver playing intimate coffee houses, 1000 seat auditoriums and everything in between. The song Out Beyond from that album, with it's Rumi inspired lyrics and Celtic melody chorus, has become an anthem of hope and transcendence for thousands of fans across the country.

Since 2001 Sky in the Road has been featured three times on the nationally syndicated radio show River City Folk. They have been heard at numerous concert halls, conferences, coffee houses and festivals including Seattle Folk Life, Portland's Winterfolk, Rose Festival, Artquake, The Bite, Earth Day/Procession of the Species, The Yakima Folklife Festival, the Mile High Church of Religious Science in Denver and many more. They have shared the stage with performers as diverse as Peter Yarrow, Utah Phillips, Betsy Rose, Tom May, Tracy Grammer, and Susan Osborn.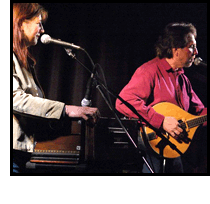 With the direction of filmmaker and former Sky in the Road band member, Dean Warner, they created their first music video in 2006 for Rahmana´s composition Set the Wild One Free. Dean was a third member of Sky in the Road for several years. He is the owner of and creative force behind Sanctuary Films, Ltd.

Back to their performing roots as a duo, Sky in the Road creates music with an organic feel that reflects their unique native Oregonian perspective. They describe their music as folk-based winding its way through Americana, country, Celtic, world folk, gypsy jazz, new age, rock, reggae and more. Known for their tight, soaring vocal harmonies they fill out their sound with a variety of instrumentation including 6 and 12 string guitar, Irish bouzouki, banjo and East Indian harmonium.

Sky in the Road has released several CDs including, "Time Travels", "Celtic Gypsy", "Where Everything is Music" and their 1996 debut, "Sky in the Road". Their recordings have received airplay in major markets such as Boston, San Francisco and Portland and on numerous college radio stations nationwide.

If you are interrested in booking Sky in the Road, or wish to feature them in your publication, visit our Press section. If you have any other questions, please feel free to contact us.




All materials ©2017 Sky in the Road 503.788.0338. All rights Reserved. Web site designed by Redhare.